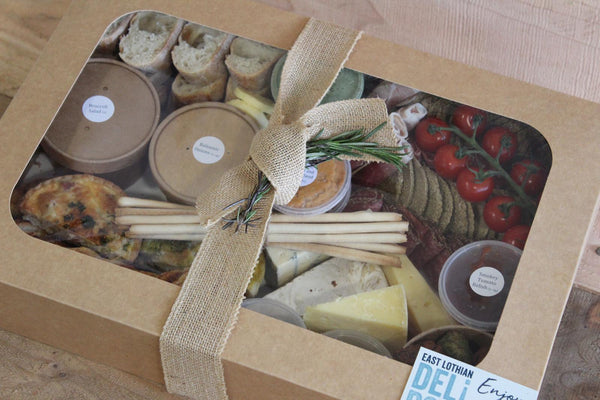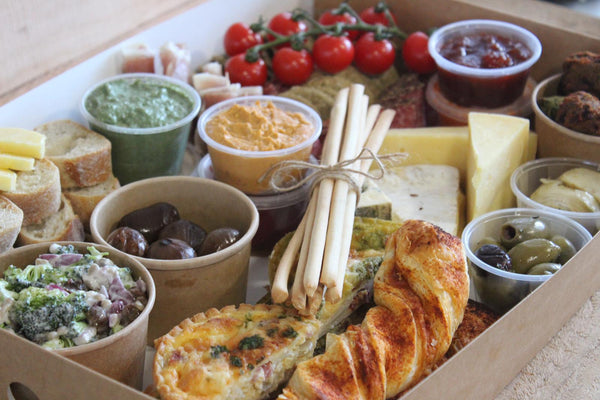 The ultimate Deli Graze box for a family or group who need more than our regular Deli Graze box.  Full to the gunnels with fabulous tasting deli treats for everyone to enjoy, this large box will easily feed 4 as a meal or 6 as a starter.  Whether you like your flavours light and delicate or full bodied and intense, this box has it all.  Fantastic cheese, delicious charcuterie cured meats surrounded by some simply outstanding deli treats that work in perfect harmony.
Comes chilled and beautifully packaged in a sealed deli box to ensure that the contents arrive safely and in good condition ready to eat and enjoy. All our Deli Graze Boxes are hand assembled with care and pride in our premises at The Mart, East Linton and all packaging can be recycled.

 
Contents:
Mellis' Clava Brie
Mellis' Cashel Blue
Mellis' Loch Arthur Cheddar
Mellis' Aged Connage Gouda
Balsamic Onions – super tasty
Stuffed Peppers – a zingy wee punch of flavour
Mixed Olives
Milano Salami
Peppered Salami
Prosciutto
Homemade Oatcakes – wait until you try our delicious plain and seeded oatcakes!
Broccoli Salad – one of our specialities, once tried, never forgotten
Chicken Liver Pate
Red Lentil, Coconut and Sesame Seed pate
Wilted Spinach and Ricotta Dip (contains nuts) – delicious!
Beetroot Falafels & Pea and Mint Falafels – once you start you can't stop!
Ham & Cheese Panier
Red Pepper Hummus
Freshly Baked Bread
Tomato Relish
Vine Ripened Cherry Tomatoes
Homemade Quiche Lorraine
Homemade Mozzarella, Pesto & Sundried Tomato Quiche
Breadsticks
Artisan Butter by Edinburgh Butter Co.
Allergens: This box contains the following allergens: Gluten, Nuts, Eggs, Milk, Sesame Seeds, Sulphites and Mustard. May contain traces of Peanuts.
 * We work hard to use the best possible ingredients where possible, very occasionally due to seasonal/availability issues, it may be necessary for us to substitute an item – if this was ever to happen please be assured that the replacement item would be of equal quality and taste every bit as fantastic!