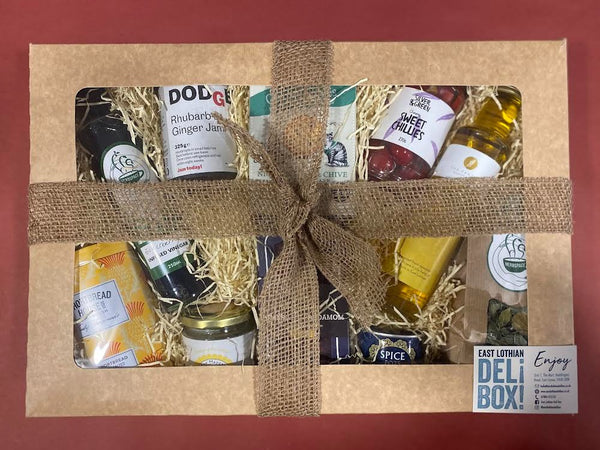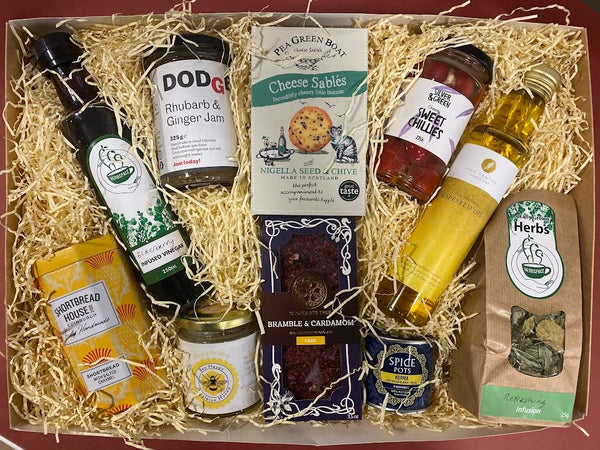 Our Luxury Hamper is full of delicious tasting treats and snacks for the whole family to enjoy – an impressive Gift Hamper that really showcases some of the fantastic produce made in East Lothian.

Comes packaged in a lovely presentation box sealed and tied with a jute bow to ensure that the contents arrive safely and in good condition.
All our hampers are hand assembled in our premises at The Mart, East Linton.

Personalised notes can be added to this hamper prior to delivery if required.

Contents:
Multi Award Winning Pea Green Boat Sables – these are sooooo tasty!
Kilduff Farm Cold Pressed Rapeseed Oil
Spice Pots - a simple vegan friendly way to make some outstanding curry.
Silver & Green Sweet Chillies stuffed with soft cheese - not quite East Lothian based but too good to leave out!
Local East Lothian Dingleton Honey 
Truly Handmade Original Shortbread by Shortbread House
Organic Craft Chocolate by Chocolate Tree
Mint Tea grown and produced by local youth charity Herbspace
Herbspace Herb Infused Vinegar - adds a real zing to salads and cooking.
Local artisan jam by Dodger Jams - absolutely jam packed with fruit and flavour!

Please note - we work hard to use smaller quantity local producers where possible. Very occasionally it may be necessary for us to substitute an item if one is unavailable. If this were to happen we would ensure that the replacement item would be of equal or greater value to that which it replaces.